Yasir Naqvi, Mona Fortier, Jenna Sudds, and Gustave Roy commit to supporting the families and businesses in Ottawa and finish the fight against COVID-19
August 28, 2021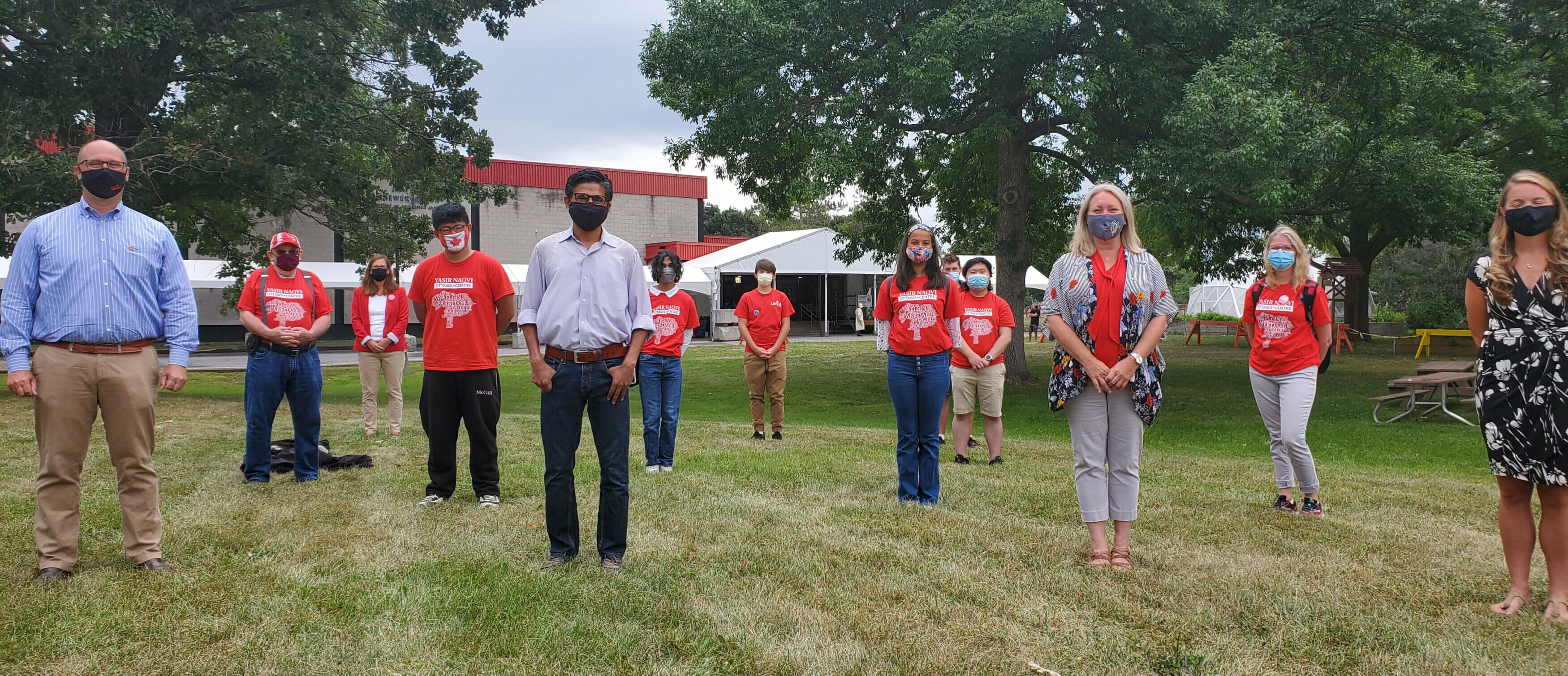 OTTAWA, August 28, 2021 – Yasir Naqvi, Liberal Candidate in Ottawa Centre, annuonced the Liberal Party's plan to establish a COVID-19 Proof of Vaccination Fund and extend critical supports for local businesses. He was joined by Hon. Mona Fortier, Liberal Candidate in Ottawa-Vanier and Gustave Roy, Liberal Candidate in Carleton, and Jenna Sudds, Liberal Candidate in Kanata – Carleton.
As our kids head back to school and more people go back to work in person, Liberals are stepping up with a real plan to keep everyone in our community safe and support our local businesses.
"In the last year and a half, we have been through a lot together. COVID-19 and the global economic crisis has exacerbated many of the hardships faced by Ottawans. But, we are starting to see a light at the end of the tunnel. Vaccines save lives, and reduce the COVID-19 infection rate, bringing us close to the end of this pandemic. We owe it to small businesses to move forward with measures to help keep their doors open and protect the health of their staff and customers. That is how we end this pandemic, and continue being there for each other." Naqvi said.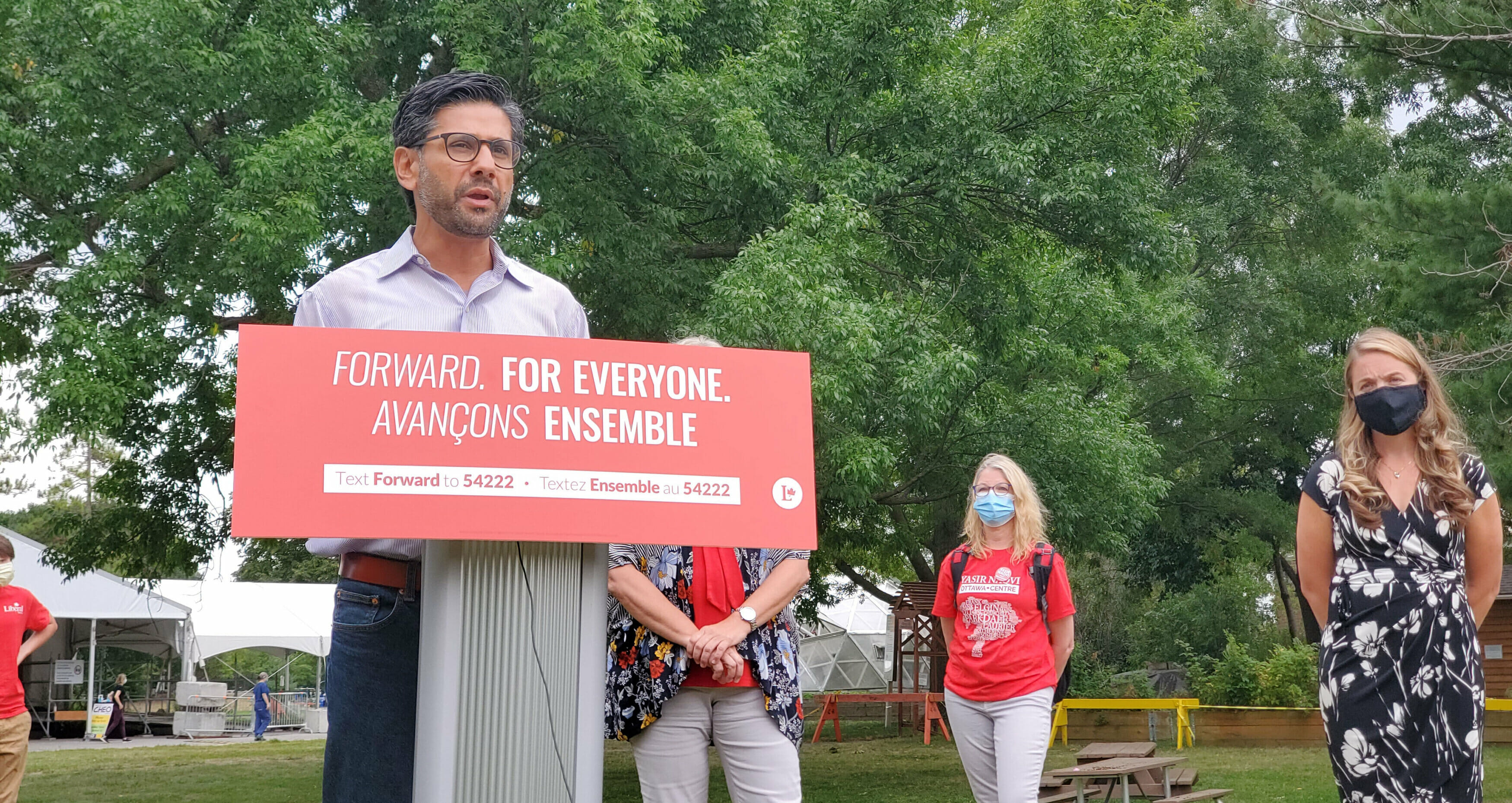 To keep moving forward and get the job done, a re-elected Liberal government will:
Introduce a COVID-19 Proof of Vaccination Fund that will be available to provinces and territories to support a proof-of-vaccine regime for non-essential businesses and public spaces, like restaurants, gyms and concert halls;
Extend the Canada Recovery Hiring Program to March 31, 2022, so businesses can hire more workers and Canadians can get back on the job;
Ensure all Canadians have access to free COVID-19 booster shots and second-generation vaccines as needed.
Public health experts across Ontario agree that having a proof of vaccination regime would better protect our communities through the fourth wave and help avoid further lockdowns. Economists have also pointed to benefits for our local businesses by increasing public confidence in going out to restaurants, concerts, gyms and other public spaces.
"Our Ottawa communities have really stepped up to do their part by getting vaccinated and we all want to finally get back to normal. But Conservatives are once again missing in action.
While our government established supports for small and medium business to help families, workers and business, acquired enough vaccines for every Canadian and supported Provinces and Territories in fighting COVID-19, Erin O'Toole and the Conservative caucus repeatedly stood up against these measures. Conservative members even delayed and ultimately opposed Budget 2021 that included millions of dollars to support our local entrepreneurs and workers. Meanwhile, Erin O'Toole continues to oppose our commons sense plans. That's not real leadership," Fortier said.
-30-
Contact:
Chantalle Aubertin
647-535-9299
media@yasirnaqvi.ca
Attributable Quotes:
"Vaccines save lives, it's that simple. We should not be debating the need for mandatory vaccines because science has proven that the only way we will keep Canadians safe and recover from COVID-19 is by getting everyone vaccinated. We need to protect ourselves and those who are most vulnerable right now, that includes children under 12 who are going back to school. The Liberal plan for a safe recovery is the best one to help ease the worries of parents, protect our communities, and help our economy bounce back quicker."
– Gustave Roy, Liberal Candidate in Carleton

"Getting Canadians back to normal life and reopening our economy safely relies on Canadians getting vaccinated. When COVID-19 hit, the Liberal government procured enough vaccines for every Canadian and Canada became a world leader in vaccination rates. Now, as case numbers rise among unvaccinated Canadians, it's time to protect the progress we've made in fighting COVID-19 — especially as Erin O'Toole's Conservatives want to weaken public health requirements and put us all at risk.

By introducing a proof of vaccination system, businesses, restaurants, universities, and workplaces will feel more confident in reopening fully, knowing that their patrons and visitors have taken the necessary precautions to stop the spread of COVID-19.

We are thankful for our provincial partners in British Columbia and Quebec who have already taken the step of developing their own proof of vaccination system. To the other provinces: now is the time to step up, protect our economic re-opening, and get Canadians moving again in a safe and responsible way."
– Jenna Sudds, Liberal Candidate in Kanata – Carleton
---
PROGRESSIVE. EXPERIENCED. DETERMINED.
yasirnaqvi.liberal.ca |  613.729.6101 |  445 Churchill Ave North, Ottawa